Published
August 28, 2013
|
By
Lisa
I have 4 different emails (not including all my social media pages) to check daily and I'm normally pretty good about doing that. However with business picking up for my gift basket company, this new blog, the coaching side of my company, and my personal emails – I'm having a hard time staying on top of them.  I don't think I put too much time into planing out how I was going to handle the influx of communication. So now I have to come up with that plan (this should have already been in place) to help me be more efficient.
I'm not a fan about taking time away from my family to do get work done, however when you're a business owner, and it's just you, sacrifice becomes your middle name.  When time permits, I try to get my family involved so we're still spending "time" together, but I try not to wear that welcome out because I want them to still like me later.  So, since I don't mind getting up in the mornings, and as long as I don't have any gift orders that need to go out, I will use this time to get all my responses and social media post done.  Of course this won't happen everyday since mornings are typically for my creating gifts and cooking breakfast for the family.
I know how I feel when I've sent someone an email or responded to something and I don't get a reply back.  I want to be best at anything I do, so that includes the tasks of sending and responding to emails and social media posts. I envy those who have this together, I wish I did, but I'm striving (or should I say aspiring) to do better.
579 to go!
Grab My Button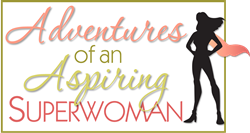 <div class="grab-button" margin: 0 auto;"> <a href="http://www.aspiringsuperwoman.com/" rel="nofollow"> <img src="http://i909.photobucket.com/albums/ac293/munchkin_land_designs/BlogDesigns2/AdventuresAspiringSuperwomanButton1.png" alt="Adventures of an Aspiring Superwoman"> </a> </div>