Published
July 22, 2013
|
By
Lisa
Well, we're back home from our much needed mini vacation. Can't say I got needed rest, but time with the family, without distractions is always a good thing. So, now it's back to the reality of the daily grind. Here's the menu for the upcoming week.
Monday:
Salmon Croquettes

Rice
Cucumber & tomato salad
Tuesday
Wednesday:
Thursday:
Meatloaf

Mashed potatoes
Green bean (peas for the hubby)
Corn on the cob
Friday:
Published
July 15, 2013
|
By
Lisa
This week will be a short one since we'll be taking a mini weekend vacation – so no cooking for 3 days! Last week we had so many left-overs from the fourth of July, I barely cooked a thing (which is alright by me).
Monday:
Tuesday:
Chicken or Beef Burritos

Brown Rice
Refried Beans
Wednesday
Sloppy Joes (on toasted texas toast)

Brocolli
Thursday:
Friday- Sunday – NO COOKING!
Published
July 1, 2013
|
By
Lisa
Last week I didn't post our dinner menu because unfortunately, I didn't plan one out. With the kids being away last week, it was just my husband and I so dinners were whatever we found in the house. Our daughter has returned from camp, so I'm back on mommy duty.
Monday:
Tuesday:
Chicken Quesadillas 

Mexican Corn
Wednesday:
Thursday:  Forth of July!
Bar-b-q Burgers

Bar-b-q Chicken
Bar-b-q Dogs
Potato Salad
Spaghetti Bake
Baked Beans
Cole Slaw
Chips
Friday:
Saturday:
Pasta Con-Broccoli

Salad
Bread Sticks
Sunday:
Smothered Pork Chops

Loaded Mashed Potatoes
Green Bean (and peas for the hubby)
Buttermilk Corn Bread
Published
June 17, 2013
|
By
Lisa
I hope you had a wonderful weekend, and got a chance to spent time with the fathers in your life.  I got to share some great quality time with the hubby and the kids – I'm always so grateful for that.  Very minimal cooking done in my household this weekend due to leftovers that we try to eat up before we start a new week.  Sunday we took my hubby out for lunch and dinner for Father's Day, but now it's back to normal and I have our menu set for the week.
Monday:
Spaghetti & Meatballs
Garden Salad
Dinner Rolls
Tuesday:
Taco Bake

Garden Salad
Green Beans (hubby won't eat green beans, so I make him peas)
Wednesday:
Homemade pizzas

Garden Salad
Hot wings
Thursday:
Salmon Croquettes 

Rice
Brocolli
Friday:
Saturday:
Barbecue Burgers & Hot Dogs (depending on weather)

Chips
Potato Salad
Baked Beans
Sunday:
Baked Chicken

Cabbage
Green Beans w/New Potatos
Buttermilk Cornbread
Grab My Button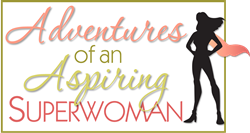 <div class="grab-button" margin: 0 auto;"> <a href="http://www.aspiringsuperwoman.com/" rel="nofollow"> <img src="http://i909.photobucket.com/albums/ac293/munchkin_land_designs/BlogDesigns2/AdventuresAspiringSuperwomanButton1.png" alt="Adventures of an Aspiring Superwoman"> </a> </div>